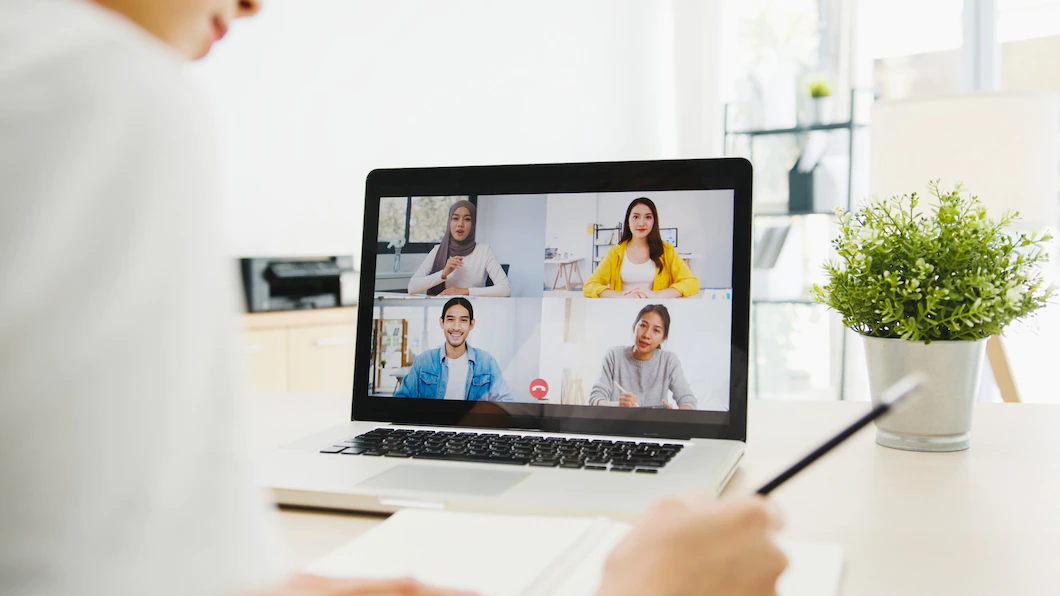 Zoom Interview Tips: How To Pass And What You Need To Know
The interview has always been a complex process, with most job seekers associating searching for a new job with stress and difficulty. It's been especially exasperating since the move to virtual platforms is no longer a requirement at all companies. We know some simple tips to pass the interview with dignity. Let us tell you about the features of Zoom and other secrets that will help you.
The Zoom interview: what is it?
This type of interview differs from a traditional one because it takes place in a virtual space. You see the interlocutor, and the interlocutor sees you, but you are far away from each other and communicating via the Internet. This means there are minor disadvantages, like loss of communication for a few seconds. But there are also significant advantages:
The ability to use additional tools on the site, such as screen sharing, screen sharing;

More opportunities for communication thanks to text chat, virtual backgrounds;

It is easier to evaluate yourself in the future because you can record a video and work through all the mistakes to avoid them next time.
Video interviews have been gaining popularity for a long time, but now most job seekers go through this stage of the hiring process. It's all about optimizing interviewers' time and maintaining social distance. This is also convenient if HR is located in San Francisco and you currently reside in Berlin. Your chances of success will improve considerably once you learn how to use the tools available.
What clothes do I need for my interview at Zoom?
Even if you are far away from the person interviewing you, you should still be aware of business dress and behavior norms. Clothing should be chosen based on your position, but you should wear a classic suit and tie in most cases. Business style is not difficult to maintain. Avoid bright and distracting colors.
Giant earrings, various flowers in the hands, or too bright jewelry are unnecessary elements in the interview. Nothing should distract the interviewer from the dialogue because it should stand out. It is worth preparing the outfit in advance and 5 minutes before the start of the interview already be on the phone, so that any problems can be solved in advance.
Top 5 Tips for First-Time Interviewers at Zoom: Create a Comfort Zone for Yourself
The interview will require focus and attention, so you should create a zone of silence and calm around you. If you are at home and have family, ask everyone to stay out of the room and keep you busy for a while. Clean up any trash where you are.
You should also remove any visual stimuli that might distract you and shift your attention away from the topic of conversation. There should also be no additional elements in the frame that will interfere with the interviewer. A picture on the wall is nuanced, but a bunch of bright posters with movie actors is not.
A few more tips:
Close the windows, so you don't get disturbed by noise from cars or other people;

It is better to lock the door as well so that no one can bother you;

Come and sit in the room much earlier than the interview begins, so you already feel comfortable.
Calm down, put a glass of water next to you and get ready. Don't forget that, more often than not, confident candidates find it easier to get a position with a company because they want to be listened to.
No need to come too early to the room at Zoom
Being late is a wrong tone that immediately removes many of your good candidate points. But showing up early, especially in the virtual space, is not a good idea either. The fact is that employers may use the same rooms for the entire job interview process. And there may be more than 30 applicants, and if you go in before your time, you'll just interrupt the other person's interview.
It's best to pre-write that you're ready, then get into your room 2 minutes in advance. You don't want to disturb other people; if you already have, apologize and get out quickly.
Make sure your internet is working well
You should test this type of interview in advance if you haven't already done it. Ask a friend or friend to do a trial dialogue with you in Zoom. This way, you can quickly identify weak points and find out about a lot of noise in the background or that the camera is not working well enough.
It should be understood that not everyone has the opportunity to do a full interview at home. In this case, a person must attend a particular computer club or use a library with Internet access. There are always options, the same coworking room.
Watch what you say
You must be heard and understood correctly. Internet communication can sometimes lag behind the caricature or just be slightly distorted. You will have to put up with these aspects in your Zoom interview.
You should speak slowly, clearly, and loudly enough. By no means shout, but the interlocutor should hear you without increasing the sound in the speakers. Talking in a confident, relaxed tone and without worrying is best. Remember that there are people on the other side of the screen, too, and they can understand you, too.
Check the date and time
A very common mistake newcomers who have not yet encountered a Zoom interview make is to misunderstand the timing of the interview. There is a possibility that the interviewer will be from another city or even another country. This means his time zone may be different, and the appointed time of 2:30 pm may suddenly become 6:30 pm for you.
It is better to ensure several times that you understand exactly when the interview will occur. Be sure to check with the manager who is accompanying you. It's better to ask the question than to be several hours late or spend hours waiting for the HR person. Or you can write a follow-up letter.
What else a job seeker needs to pay attention to during a job interview at Zoom
Don't forget the sound
Be sure to use the mute button and set the microphone to operate in walkie-talkie mode from the controller. This can significantly reduce background noise and make the interview more pleasant. Also, mute the sound on:
smartphone;

computer or laptop notifications;

alarm clocks, and anything else that might make a noise.
Be professional in your approach to making yourself look your best. Also, try adjusting the sound in more detail in the settings. More often than not, the standard volume may not work for your microphone. However, making the stages more sensitive can be dangerous because small noises will also be captured. In this case, it is better to buy a slightly more expensive microphone already.
It is better to use a computer or laptop
Zoom is available on your cell phone with the app, but it is best not to use this option for an interview. In that case, your camera will constantly be wobbling and spinning, which creates additional distractions. Shaking will only aggravate the picture. A computer or laptop can be more conveniently positioned, the camera is more likely to be more precise there, and the screen can be shown without problems.
Clean the screen of debris
Your screen is your second business attire. Remove all unnecessary icons and shortcuts from your desktop, and make it attractive and minimalistic. The chaos on your desktop will distract the interviewer and show you as an insufficiently organized person.
Try a virtual foundation
This option is already considered seldom used but quite enjoyable. With simple manipulation of the settings, you can change your foundation to a different one. If you succeed, the picture can be slightly improved. In the same way, you can hide your place of residence, for example, if there is no possibility to make repairs in the apartment now.
Charge your laptop
Remember to put it on charge in time if you want to be interviewed on a laptop. Suddenly shutting down the system or interrupting the interview to look for a charger prevents you from showing yourself as a professional. The same goes for updates: install them all before the interview starts. If you accidentally click on a notification with an update, the computer may reboot and ruin your entire impression of you, delaying the interviewer.
Smile
Don't forget that even though your interview is in a virtual space, someone is still sitting across from you. So use positive body language, smile, and be friendly. You must leave a positive impression of yourself so that the person will pay attention to you and promote your candidacy.
How to behave after the interview at Zoom
Not all interviews end with a job found, and that's a fact. But you can increase your chances and leave a pleasant impression, which can play into your hands in the future.
Within 2-3 days, try to contact your employer and express gratitude for the company's attention to you. It's best to email your interviewer or supervisor for the position.
Include a greeting and thank you at the beginning. Include the date of your interview and the position you want. In the same letter, you can confirm that you are still interested in the place.
Reflect on your interview and add details you didn't have time to say in Zoom. The best way to end the letter is to say that you are looking forward to what you have to do next. You can also repeat such a letter, but it is better not earlier than five working days.
In general, you should use words and tone that sound as if you are confident that you have already been hired. Show confidence, enthusiasm, and interest in the company and your future job. Always have a positive attitude, and try to think about what you could do for the company in the first place. In this case, the organization will be interested in hiring such a candidate.
We can wish you luck!