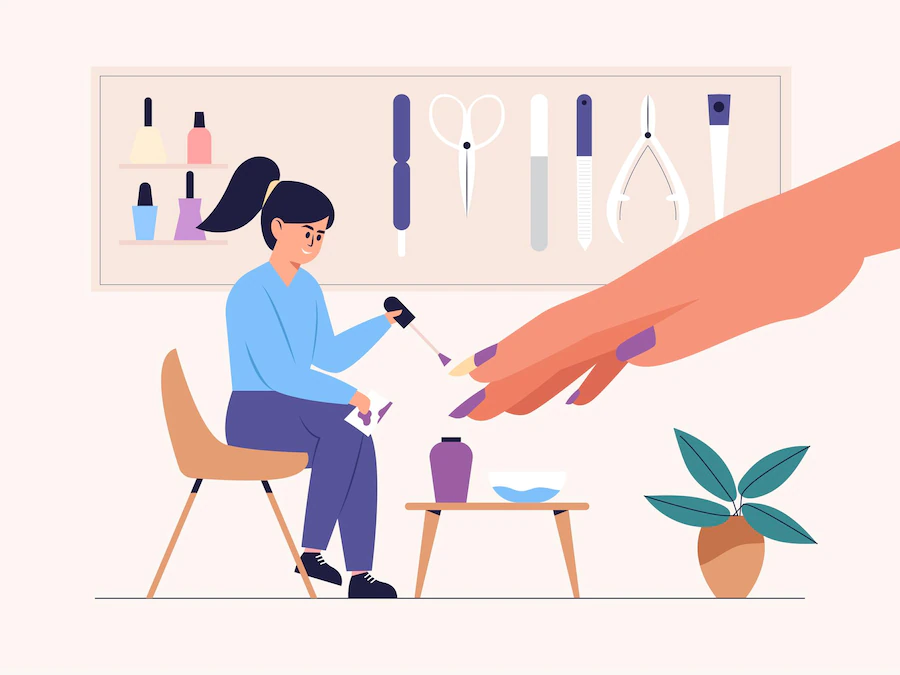 Competitive Nail Technician Resume: A Guide to Writing
According to analysts, nail service is actively developing, and this area will only progress in the future. Despite the high demand for specialists in this field, competition does not sleep: there are more than enough applicants. Therefore, you must stand out from other candidates to find a high-paying job. A well-written resume can help with this.
What are the goals of the resume of the master of manicure and pedicure?
Tough competition thrives among beauty salons: the owners of top establishments work through all the details and look for talented employees with impressive experience who can attract even more customers with their unusual solutions. Entrepreneurs are willing to pay a lot of money for this, and your task as a job seeker is to advertise your achievements and unique competencies with a resume based on your skills and achievements.
It is equally influential for the employer to imagine what kind of person you are. Indeed, the workshop owner needs to clarify that you can take his business to a new level. To do this, you must tell about yourself, what you can do confidently, your techniques, and whether you have experience in caring procedures.
Creative skills are one thing, but when you are not in conflict, you can support the client's conversation, listen to him, strictly follow hygiene rules, and be ready to develop. You will replenish the base of regular visitors, which will positively affect the institution's income and salary.
CV's structure
It is customary to present information about yourself briefly, clearly, and in a specific sequence: various templates, fonts, and methods of highlighting essential components of the text help with this. The descriptive structure should focus on the skills you have. Employers prioritize skills, personality, and a willingness to provide certain services from day one, not education or hobbies you pursue at home. In general, there are two samples:
You have work experience. Choose a chronological resume with "Work Experience" after skills but before certifications.

You have no work experience, but you know something. A functional resume will suit you, the task of focusing the employer's attention on your competencies.
The chronological summary is structured, and the sections have the following titles:
Contact Information

Objective Statement

Skills

work experience

Education
How to write a resume for a nail technician
Contact information
Start by giving a name by picking a larger letter size. Complete the introductory block with the location's address, which is enough to indicate the city and state, e-mail, phone contacts, and a link to LinkedIn or a social network account.
Example
Employed Entry
Fit in 2-3 short sentences, a few words about yourself. A few Soft Skills, a little about the current position, the most striking achievement in my career, and elderly experience, if any. Remember that the competencies and achievements mentioned in this block should be consistent with the job requirements you are applying for.
Sample
Licensed nail technician with ten years of experience in a beauty salon. I am familiar with various techniques for caring for fingernails and toenails, I am conscientious about hygiene issues, and I can make professional freehand drawings and light SPA procedures. Assiduous and creative, I find a common language with clients.
Skills
Competencies are your working face. List in this section all the essential skills that would come in handy in nail art, such as that you know how to do gel polish. Don't lose sight of nail services' characteristics and self. It is good if you are sociable, esthetician, precise and patient. Take this section seriously: the information provided here shapes your professional image in the eyes of the employer.
Example
Licensed Specialist

Ten years of experience as a manicure and pedicure master

Confident in the latest nail techniques such as digital nail art, sponging, decal, stickers, painting, stencil, and taping.

Skills in SPA procedures, massage, and body wraps.

Meticulous attention to detail.

Strict adherence to hygiene measures.

Creativity

Sociability
Experience
Take a tour of personal and professional experience, displaying current qualified experience in a senior position. Indicate the situation, place of work, and the list of duties and achievements in the form of a list that contains no more than five items. Specify the experience that relates to the nail service. You can cite positions that are not related to the field of beauty. Still, they must necessarily feature skills that can favorably affect your image as a manicure and pedicure master.
An example of duties and achievements in the last position related to the nail service:
The use of modern nail techniques in the care of fingernails and toenails.

The provision of massage services during the drying of nails. Satisfaction of customer requests in comfort and convenience (coffee, soft drinks, etc.)

I am maintaining sanitary conditions and keeping the workplace clean.

I am accounting for consumables and the timely formation of applications for the necessary accessories.

The Wide base of regular customers: 80% of visitors came for the second time or more.
Education
It is mandatory to display data on the name of the educational institution, the date of its graduation, and the academic degree you received as a result of your training. If the previous section, "Work Experience," is modest, then in this block, you can specify additional data, such as the topic of an academic project vs. awards, average score, etc. A detailed description should still resonate with the nail tech. Include license details here and underline if you have completed any paid or free nail, beauty courses, or medical certification.
Sample
Master's Degree in Cosmetology
FLOYD E. KELLAM HIGH SCHOOL, 2015, Virginia Beach, VA.
Licensed nail technician
VIRGINIA BEACH TECHNICAL AND CAREER EDUCATION CENTER, 2015, Virginia Beach, VA.
Tips for Writing a Manicure and Pedicure Mater Resume
When presenting information about yourself, try to ensure that the employer finds answers to his requirements in your skills and the Work Experience section. Cover everything related to nail technology, but do not neglect the specifics: use it if something can display something in numbers and percentages. For example, indicate what percentage of visitors are regular customers, how many new regular customers you attracted at your previous job, etc.
What should be considered?
When writing CVs, it is essential to consider the keywords that help ATS find you. Remember about what is necessary for a manager:
Education. A cosmetology degree and certified courses will be the best advertisement for your professional level.

License. The license document provides access to work as a nail service master. Keep in mind that each state has its licensing requirements.

Creativity. It is indispensable for an entrepreneur to understand that you are talented and ready to invent something new to attract new customers and improve the business.

Sociability. Clients of beauty salons love to talk; sometimes, they need advice, encouragement, or reassurance. This is certainly within the power of an employee who can efficiently conduct a lively conversation.

Accuracy. Nails are petite and require attention to detail for the final look to be beautiful.

Patience. The manicure and pedicure procedure is not short. You must be prepared to spend up to two hours per client and do everything flawlessly.
If you have difficulty presenting information about yourself, please contact the ResumeGets.com team. You will be assigned a skilled specialist who will conduct a detailed interview, structure the information received, adapt it to the requirements of the ATS system, and present a readable result on a beautiful template.
Questions about the resume of a nail technician
What is the best resume structure for a manicure and pedicure master?
Use a design focusing on two categories: "Skills" and "Work Experience." Start with a short 2-3 sentence summary, shift your attention to a bulleted list of skills, reflect on information about previous jobs, and end the document with concise "Education" sections.
What skills should be indicated?
Start the list with those competencies that the nail service master urgently needs: license, duration of work in this area, and a list of primary and additional services in the context of nail tech. Complete the list with the so-called Soft Skills: creativity, good communication, accuracy, patience, etc. Optimal list size: 4-8 items.
What do I need to do to pass the ATS system?
Learn the keyword standards from top resume examples and tailor your resume accordingly.
Related articles: