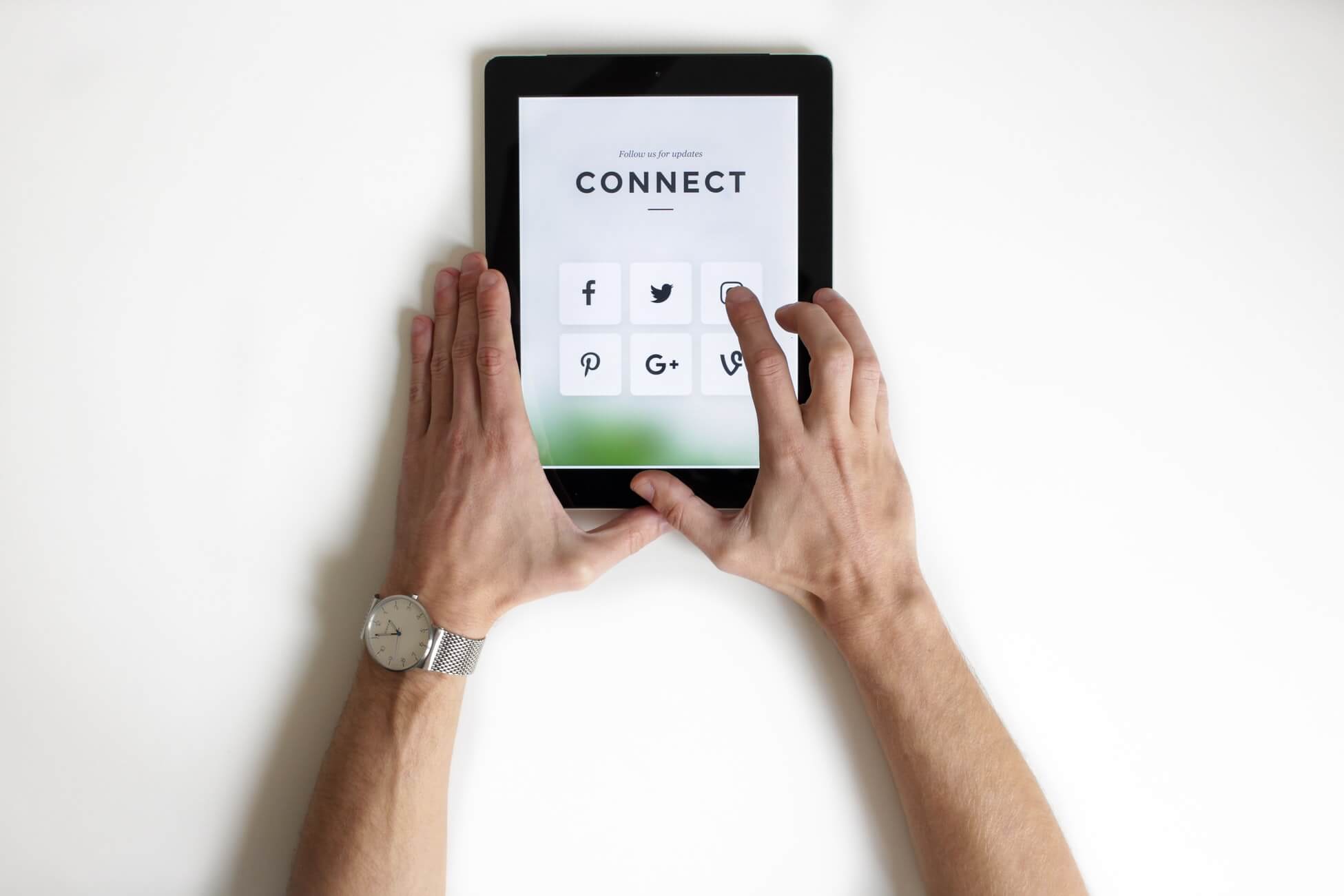 Show your Profile on Social Media, and I Will Tell you What You Are
Social networks are entering our lives more and more every day, and they are used in different ways. Employers also do not bypass them, especially when choosing candidates. According to the Wall Street Journal, 43% of employers admitted that they changed their mind about a candidate for the worse after visiting his/her pages on social media. And only 19% said that the information added points for the applicant.
Let's all agree – social media reflect the way of life, and a person's thinking, demonstrate his/her social connections (mutual friends), and tastes, and broadcast the history of personality formation and intentions. You don't need to be a professional psychologist to read information about a person from a profile on social networks.
Therefore, from now on, Facebook, Instagram, TikTok, Twitter, and LinkedIn are your new weapon in the fight for your dream job.
Your profile is your reputation. It's good if your radical statements or reposts do not interfere with the formation of a holistic, harmonious image for a partner or employer. Recent events in the world have proved that the word is not a sparrow, and you need to be as careful as possible with how and what you say.
WHY DO RECRUITING MANAGERS VIEW YOUR SOCIAL MEDIA PROFILE
1. To check if the information in the resume matches the real picture
Like each of us, when visiting another's page, the employer pays attention to the fact that tastes, outlook on life, and hobbies coincide. What will interest the guest of your social networks the most depends only on him/her. And if you share your work accomplishments on your Facebook page, for example, or if Instagram is your portfolio, it will probably be a nice bonus for the employer.
Because "if you want to change the world, please make your bed first in the morning, and then go change the world." The same story is here. If a person wants to do something, it is important to understand: does he/she write without grammatical errors? Because if he/she has confusion in thoughts and words, there will probably be confusion in deeds.
2. To understand what kind of person they are hiring
What an applicant publishes on his or her Facebook, Instagram, or Twitter page, how often he or she does it, and what kind of response he/she gets is especially important for the employer if a person is applying for a position related to marketing, brand management, social work within the company.
For example, a woman with a long track record sits in front of an employer – she has worked in many companies and came to be hired for a high position in the marketing department. Not for the position of the Marketing Director, but for the role of Brand Manager – to represent the brand.
HR decided to study her social network. Facebook comes in, and there is a 5-day-old post with 16 curses. She claims to run a large brand with a fairly serious turnover; there are several tens of millions of dollars a month. The HR Manager will have several questions: How can she not maintain her social networks? What can she sell if she cannot sell herself? Well, her relatives liked it, and probably her friends liked it. And where is the audience?
TIPS ON HOW TO MAKE YOUR PROFILE MORE ATTRACTIVE
According to a 2021 study by dreamgrow.com, the number of users who actively use Instagram is 1 billion. Now imagine how huge this audience is and how many active and passive candidates you can find in it.
To make your profile more relevant – write several stories about your life path, artistically and briefly describe the key moments of your becoming a person and a specialist. This kind of storytelling will be a great addition to your resume: fascinating stories humanize the image, and openness and willingness to write about your life on social networks inspire respect and trust among potential partners and employers. Don't forget about #hashtags and geotags – these are basic search tools for recruiters.
This social network helps to build up social capital – to create a loyal audience, form a community, as well as promote oneself as a professional and real expert, and receive offers for cooperation, and native advertising.
Here, the content should evoke emotions or resonance, solve your problems and coincide with trends. The recommended post length is up to 40 characters; such posts get more reach and are more likely to get organic results in the feed. After 280 characters, the probability that it will be read is lower. To show your expertise, write long posts, but publish them as a note. To increase engagement, ask your audience questions, arrange polls, study different opinions, and analyze information.
Here people talk about you by who your friends are. Look at the list of friends of your co-workers, and pay special attention to the "Work" and "You may know them" tabs. To attract opinion leaders, write posts specifically about them, having previously found out what worries them now. Keep in mind that Facebook places next to posts with similar topics.
The essence of the promotion here is not brand advertising. People using this network do not care what product you present; it is important how you do it. There are two categories:
Experts – executives and top managers offering free consultations, and answers to questions in specialized communities. On the site, there are specialized groups for management, IT, and other areas, where people discuss sensational events, and ask questions. Get involved in discussions and share your professional experience.
Bloggers are users who are interesting to read. Write informational texts, talk about failures and successes, and layout cases.
The main goal for promotion is to become both. Experienced business people usually have many personal stories that might interest others. Feel free to talk about it. Submit the talks you have given on important forums.
If you are active, your connections will grow. Important, relevant, and useful information will give confidence in your wisdom as a manager and will increase the credibility of the brand. Competent comments and posts will surely attract attention, so design your page, join communities, and promote your company!
Javier DeSantiago's story is a great example of promoting a resume on Twitter.
While looking for a job, he decided to try out the micro-blogging service Twitter to get the attention of employers. He gradually added information from his resume in tweets. Javier DeSantiago, a video editor for the local news station in Tucson, Arizona, tried to fit the facts out of his resume into 140 characters, making his posts often look funny and somewhat awkward.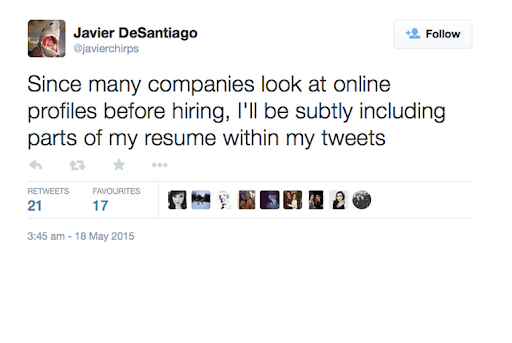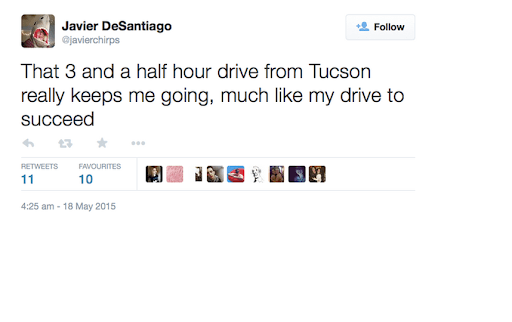 While @Javierchirps is looking for a job, his tweets posted on the Imgur platform have received almost 400,000 views. "The lack of offers from employers makes me look for new and original ways of self-expression. And it seems to me that this is insanely interesting," - said 24-year-old Javier DeSantiago.
Conclusion
Your personal brand on social media is a marketing tool that will distinguish you from other professionals, help you get a great job, and make more money. Of course, fame, money, and love will not come to you right away, but showing that you are a cool pro might be possible and useful.
When you talk about your experience on your personal blog or a page on social networks, you gather a professional community around you. Useful content reaches thousands of interested people from the industry – this helps to form a brand of a specialist who has something to share.
What to watch:
What to read:
Top 10 books about social media
Related articles: